Employment Opportunity: Executive Assistant
Is this you?
Good morning, happy Friday!  What a week we had . . . Monday started normal enough, the daily standup meeting with the admin team (some good ideas around customer service), the 1 on 1 meetings I had with the managers throughout the day; you always get an interesting project or two from those.  Of course, you had the normal bookkeeping, accounts payable routine, but that par
t is easy.  Our system is dialed.  Then you took that call at the end of the day . . . A prospective client looking for a forward-looking IT partner.  They looked like a good fit, so you booked us in to meet them later in the week.  Little did you know . . .
Tuesday was all about the team.  We brainstormed about how to track the individual growth plans for the team, how to fold in feedback given in the quarterly coaching sessions and how to communicate progress and opportunities visually.   We worked on your growth plan a bit too.   One of the techs had an idea on how we could save a big hassle managing a certain service for customers.  We just need to get some demo gear in from a new vendor.  You worked out how to make that happen with their channel development person.  It will be so cool if it works!
Wednesday we had our monthly manager meeting.  You helped prep for the meeting, including building a couple of fun slides to get the group thinking about a potential problem/opportunity we're facing.  Great meeting!  There was some healthy disagreement, but we came up with a great game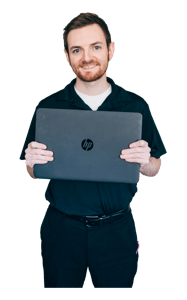 plan.  There were a bunch of next actions that you helped delegate, some you did yourself.  Execution is everything.  
Whoa, Thursday . . . and that appointment you booked.  They turned out to be a dream client!  Fast moving, creative, demanding (in a good way).  But their IT is a wreck, they need to get a new team in place fast.  You and I dropped everything to step through our findings . . . there's a lot of details to run down, calls to vendors, discussions with our engineers.  That's just how we do it, the details matter, we want to get it right. 
Today we'll present our findings to their executive team.  We've got some more work to do outlining their needs in our sales presentation.  It's not a boring PowerPoint, it's a conversation about their business and where it can be with a strong IT partner.  Ok let's get going, we've got just 5 hours before go time.
Are you ready?
You have excellent communication skills–written and verbal, are an effect team member and get excited solving problems.   A background in customer service can't hurt.  You're a whiz with logistics, scheduling, finding ways to make the pieces fit.  You're here to help me drive the company plans forward, I need someone to help me with the fiddly bits.  There will be a skill you'll need to learn, but we'll help you get there. 
You report to: Peter Kardel, CEO.
Your new office!
Clever Ducks is located in scenic downtown San Luis Obispo, California.  We are a block away from 60+ restaurants, cafes & pubs, not to mention Farmer's Market.  You'll be working in a new, open, collaborative space that is filled with natural daylight from windows and solar tubes.  Of course, we have a Sonos and Nespresso machine. 
Your duties:
Support:
* Scheduling & logistics for the CEO
* Sales admin
* Projects supporting our quarterly priorities
* Bookkeeping and Accounts Payable
Qualifications:
* Associate or Bachelor's degree
* Three or more years' experience working in an office environment
* Basic accounting skills
* Skill with office applications such as MS Office and Quickbooks
Personality traits desired:
* Professional, trustworthy, productive, fun, humble, systematic, organized, conscientious, polite, team player, reliable, multi-tasking, flexible, reassuring & confident with clients, patient and proactive.
Job parameters:
* Full-time position, 8-5 core hours, flex time around those core hours
* Must have valid CA driver's license & reliable vehicle
* 85% onsite; 15% around SLO county (mileage reimbursed)
* Able to lift 250 pounds (just kidding)
* Company utility bike use is optional but encouraged
* Complete benefits package, paid time off and competitive hourly wage position starts at $20/hour
About Clever Ducks:
We can be your complete IT department for less than the cost of a part time employee.  We eliminate IT-related obstacles because when your IT works, you work less.  You focus on growing your business; we'll develop & execute your IT plan, manage the technology and support your team.
Clever Ducks is conveniently located at 1313 Broad Street in San Luis Obispo, CA.
For more information, please visit our web site at www.cleverducks.com or check us out on Facebookhttps://www.facebook.com/cleverducks
To apply for this position email [email protected]  include a PDF of your resume, as well as a short PDF cover letter explaining two things: why you're amazing, and why you're the ideal candidate for this job.