Is this you?
It's already a good day. The music from the Sonos is on and the techs are on the phones following up with resolved issues – already helping people get to work. You have a
couple of calls to make to vendors on the east coast and then it's time for a check in with your manager to coordinate on the day's tasks. There are quotes to create, but our process is on point, so this is the easy part. Follow-ups are also due for our Surveys and Proactive site visits from last week. They are always happy to hear from you. Talking to clients and getting their feedback is one of the best parts of our day!
The beginning of the quarter is coming, so it's time to get our planning meetings on the calendar. This is our chance to shine, as we work closely with our clients to make a game plan to meet their business goals for the next quarter.  We figure out what they need and why, then come back to the office and figure out the how with their Net Tech, making sure we're following through to help them succeed. While you're prepping to meet with the Net Techs, you field a few calls for the service team. You even perform some light troubleshooting so the team can focus on the higher level challenges. Way to go!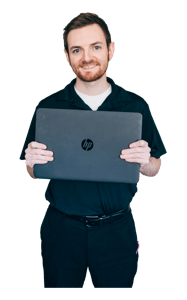 The sales team has been busy; we're onboarding a new client! Time to contact current vendors and IT and communicate with the key people in the organization. All the pieces need to be in place before we start so we can make sure the transition goes as smoothly as possible. That's just how we do it, the details matter, we want to get it right.
There's always something new to do and learn, but that's where you thrive. Who wants every day to be the same?
Are you ready?
You have excellent communication skills–written and verbal, are an effective team member and get excited about helping people do their best work with technology.   A strong background in customer service and a true passion for helping clients succeed is needed. There will be skills you'll need to learn, but we'll help you get there.
You report to: Client Success Manager
Your new office!
Clever Ducks is located in scenic downtown San Luis Obispo, California.  We are a block away from 60+ restaurants, cafes & pubs, not to mention Farmer's Market.  You'll be working in a new, open, collaborative space that is filled with natural daylight from windows and skylights.  Of course, we have a Sonos and Nespresso machines.
Your duties:
Striving every day to create 1st in class customer experiences
Being the client's advocate
Communicating effectively and building relationships with clients, vendors and key players in the community
Energetically tackling tough tasks in a fast paced environment, often wearing several hats throughout the day, and doing so without missing the details
Learning new skills and technologies to find those that best meet the needs of clients and the team
Having high-level discussions with decision makers and business owners regarding their business goals and how technology can help them get there
Solving problems to help clients succeed
Sharing ideas and working with a great team
Having fun while getting it all done
Qualifications:
* Associate or Bachelor's degree
* Three or more years' experience working in an office environment
* Extensive customer service experience
* Represent Clever Ducks in a professional and articulate manner
* Skill with MS Office
Personality traits desired:
Professional, articulate, trustworthy, productive, fun, humble, systematic, organized, conscientious, polite, team player, reliable, multi-tasking, flexible, reassuring & confident with clients, patient and proactive
Job parameters:
* Full-time position, 8-5 core hours, flex time around those core hours
* Must have valid CA driver's license & reliable vehicle
* 85% onsite; 15% around SLO County (mileage reimbursed)
* Able to lift 250 pounds (just kidding)
* Company utility bike use is optional but encouraged
* Complete benefits package, paid time off and competitive hourly wage position
About Clever Ducks:
Clever Ducks is known as being a tech company, but we are really so much more. We are a people company – we help people do their best work through technology.
We can be your complete IT department for less than the cost of a part-time employee.  We eliminate IT-related obstacles because when your IT works, you work less.  Our clients focus on growing business; we develop & execute the IT plan, manage the technology and support our client's teams.
Clever Ducks is conveniently located at 1313 Broad Street in San Luis Obispo, CA.
For more information, please visit our web site at www.cleverducks.com or check us out on Facebook https://www.facebook.com/cleverducks
To apply for this position
Email [email protected]  include a PDF of your resume, as well as a short PDF cover letter explaining two things: why you're amazing, and why you're the ideal candidate for this job.